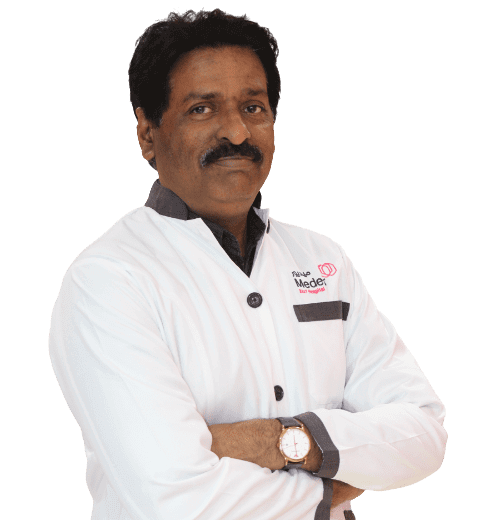 Dr. Sasikumar Vallachira Pisharom
Specialist Surgeon - Laparoscopic & General Surgery
---
Years of Experience :
24
Nationality :
India
Languages Known :
English, Hindi, Malayalam, Tamil
Education & Training:
MBBS, MS (General Surgery)
Book Appointment
Biography
Dr. Sasikumar is an experienced Surgeon with over 24 years of experience conducting various surgical procedures, including laparoscopic, thyroid, and parotid, across diverse organizations in India and the Middle East. He received his MBBS from the University of Calicut, India, and Master's in General Surgery from the Mahatma Gandhi University, Kottayam, India, and continued his extensive advanced laparoscopic training at the GEM Endo-Surgery Training Institute. Dr. Sasikumar is an active participant in ASI and Arab Head Conferences. 
Expertise
General Surgery - Inguinal Hernias, Abdominal Wall Hernias, Hydroceles, Varicoceles, Sebaceous Cysts, Lipomas, Ear Lobe Repair Nail Removal, Circumcision, Varicose Vein Surgery, Thyroid Surgeries, Breast Surgeries.
GI Surgical Operations - Appendicectomies, Primary Suturing of Duodenal Ulcer Perforations, Gastrectomy's, Gastrojejunostomies, Feeding Gastrostomies, and Jejunostomies, Resection and Anastomosis for Small Bowel Pathologies like Perforations and Strictures, Right Hemicolectomies, Left Hemicolectomies, Sigmoid Colon Resection, Colostomies, Anterior Resection of Rectum for Carcinoma Rectum, Modified Mesh Rectopexy for Rectal Prolapse
Hepatobiliary and Pancreatic - Cholecystectomies, CBD Exploration for Choledocholithiasis
Minimal Invasive Surgery - Diagnostic Laparoscopy, Laparoscopic Cholecystectomy, Laparoscopic Appendectomy, Laparoscopic Hernia Repair, Laparoscopic Perforation Closure, and Laparoscopic Adhesiolysis 
Other General & Laparoscopic Surgery Experts