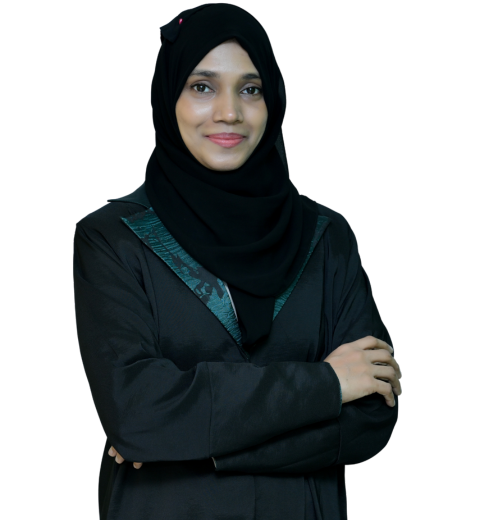 Dr. Sumayya Shoukat Ali
General Dentist
---
Years of Experience :
14
Nationality :
India
Languages Known :
English, Hindi, Kannada, Malayalam
Education & Training:
Bachelor of Dental Surgery (BDS) from Yenepoya Dental College Mangalore, India Fellowship in Restorative Clinical Dentistry, Asian Dental Academy, India
Book Appointment
Biography
Dr. Sumayya Shoukat Ali is a seasoned General Dentist with 14 years of dedicated experience. A graduate from Yenepoya Dental College, she further honed her expertise by completing a Fellowship in Restorative Clinical Dentistry at the Asian Academy. Additionally, she possesses a certificate in Digital Dentistry from the Institute of Digital Dentistry. Dr. Ali is adept at performing Root Canal Treatments on both anterior and posterior teeth for both adult and pediatric patients. She showcases advanced proficiency in procedures related to Crowns, Bridges, and Veneers. Her skill set is further complemented by her proficiency in digital impressions, restoration fabrication, and digital smile design.
Expertise
Root Canal Treatment:
Anterior & Posterior teeth (Single visit/multiple visit)
Retreatment of previously failed RCTs
Pediatric RCTs
Restorative Procedures:
Crowns, Bridges, and Veneers
Post & Core Buildup for fractured teeth
Inlays & Onlays
Aesthetic & Restorative procedures
Tooth jewellery
Digital Dentistry:
Digital impressions & fabrication of restoration
Digital smile design
Extractions:
Surgical and non-surgical extractions
Alveoloplasty
Pediatric extractions
Dentures:
Removable and Fixed Partial Dentures
Gum Procedures:
Gingivectomy (gum shaping)
Gingival peeling (gum stain removal) with laser (soft tissue/diode)
Cosmetic Procedures:
Teeth whitening and reshaping
Preventative Treatments:
Pit & Fissure sealants
Scaling & Polishing
Membership
Indian Dental Association Karnataka state Dental Council Institute of digital dentistry