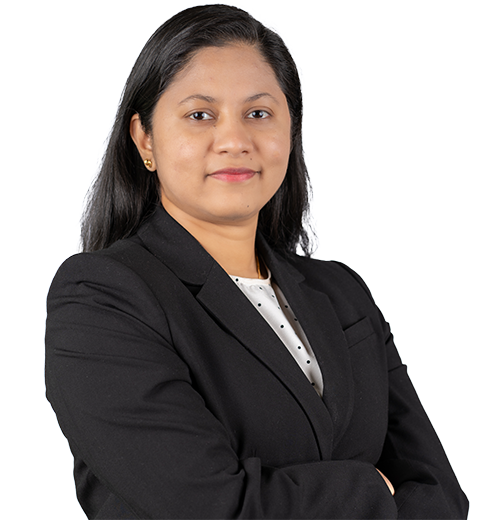 Dr. Anjana Karunakaran
Specialist Ophthalmologist
---
Years of Experience :
5
Nationality :
India
Languages Known :
English, Hindi, Malayalam
Education & Training:
MBBS, MD(AIIMS), FICO, MRCS, Fellowship in Cornea and Refractive Services (FCRS)
Book Appointment
Biography
Dr Anjana Karunakaran is a Specialist Ophthalmologist with five years of experience. She completed her MBBS from Government Medical College, Trivandrum (2007). She received her MD in Ophthalmology from the prestigious All India Institute of Medical Sciences (2015), and she went on to pursue a Fellowship in Cornea and Refractive Surgery from Narayana Nethralaya ,Bangalore (2018). She worked as Cornea Refractive Surgeon in Chaithanya Eye Hospital and Research Institute, Trivandrum, India, for four years before joining Medeor Hospital, Dubai. She has expertise in comprehensive ophthalmology, both anterior segment and posterior segment. She deals with ocular emergencies and trauma.
Research & Publications
Titiyal. J, Karunakaran A, Rathi A, Kaur M, Sharma N, Agarwal T – Collagen Cross-Linked Therapeutic Grafts in Fungal Keratitis.- Ophthalmology(DOI: 10.1016/j.ophtha.2018.04.005)
Kumar, V., Karunakaran, A., & Valakada, J. (2017). Septo-optic dysplasia. International Ophthalmology. doi:10.1007/s10792- 016-0437-7
Duraipandi, K., Gupta, N., Karunakaran, A., Kale, P., Dhaka, S., Verma, N., & Mirdha, B. R. (2016). Naso-Ophthalmic Myiasis and Pubic Louse Infestation of Nose. Journal of Case Reports, 1-3. doi:10.17659/01.2016.0001
Expertise
Refractive Surgery Like Lasik, PRK
Pterygium and Ocular Surface Disorders
Dry Eye Evaluation and Thermal Pulsation Therapy
Ocular Trauma
Ocular Allergy and Infections
Screening for Retinal Disorders
Ocular And Extraocular Mass Lesions
Nasolacrimal Obstructions
Glaucoma
Assessment of Keratoconus with Medical and Surgical Management
Corneal Transplantation
Mucous Membrane Graft and Limbal Stem Cell Grafts
Chalazion Excision, Eyelid and Conjunctival Mass Excision
Medical Treatment
Intravitreal Injections For Diabetic Retinopathy
Age Related Macular Degeneration
Macular Edema
Vascular Retinal Disorders
Membership
Indian Medical Association
All India Ophthalmological Society
Cornea Society, India
Royal College of Surgeons, Edinburgh