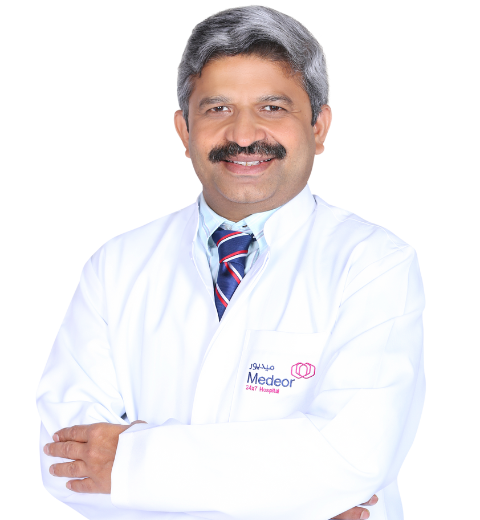 Dr. Anil Magdum
Specialist Gynecologist Gynecological Endoscopic Surgeon
---
Years of Experience :
25
Nationality :
India
Languages Known :
English, Marathi, Hindi
Book Appointment
Biography
Dr. Anil Magdum is a Specialist Gynecologist Gynecological Endoscopic Surgeon at Medeor Hospitals, Dubai. He has been performing gynecological endoscopic and oncological surgeries since 2009. He worked at multiple reputed hospitals as a Consultant Gynecology Endoscopic Surgeon during his long career, including Currae Group of Hospitals, Mumbai, India, and Sunrise Group of Hospitals, Mumbai, Cochin, Delhi. India.
Qualification
MBBS, DGO, DNB (Ob-Gyn), Fellowship Minimal Access Pelvic Surgery, Fellowship Gyn Oncology
Expertise
Outpatient Gynecology Consultations
Office Hysteroscopy for Evaluation and Treatment of Infertility, Abnormal Uterine Bleeding, Intrauterine Adhesions, Intrauterine Polyps, Misplaced Intrauterine Device
Laparoscopic Total or Subtotal Hysterectomy for Abnormal Uterine Bleeding, Fibroids, Endometriosis
Emergency Laparoscopy Procedures for Ectopic Pregnancy (Tubal and other), Torsion of Ovary and Fallopian Tube, Inversion of Uterus
Laparoscopic Creation of Neovagina for Absent Vagina, Severe Narrowing of Vagina
Laparoscopic Trans Abdominal Cerclage (Tac) Nonpregnant Uterus for Repeated Pregnancy Losses in Second Trimester
Laparoscopic Trans Abdominal Cerclage (Tac) Pregnant Uterus up to 24 Weeks
Laparoscopic Uterus Preserving Surgery for Adenomyosis and Severe Endometriosis Involving Ovary, Rectovagina, Ureter
Laparoscopic Surgery with and without Mesh for Prolapse of Uterus, Vagina
Laparoscopic Repair of Fistula of Bladder, Vagina, Ureter
Uterus Preserving Laparoscopic Surgery for Fibroids
Ovary Preserving Laparoscopic Surgery for Ovarian Cysts
Hysteroscopic And Laparoscopic Surgeries for Blocked, Fallopian Tubes, Reversal Of Tubal Ligation, Tubal Cannulation
Day Care and Inpatient Hysteroscopy Procedures for Intrauterine Fibroids, Polyps, Intrauterine Adhesions, Uterine Septum
Vaginal Surgeries for Prolapse of Uterus and Vagina
Membership
Member Federation Obstetrics and Gynecologists Societies of India (FOGSI)
Member Endometriosis Society India
Member Association of Gynecology Oncologists of India (AGOI)
Other Gynecology & Obstetrics Experts