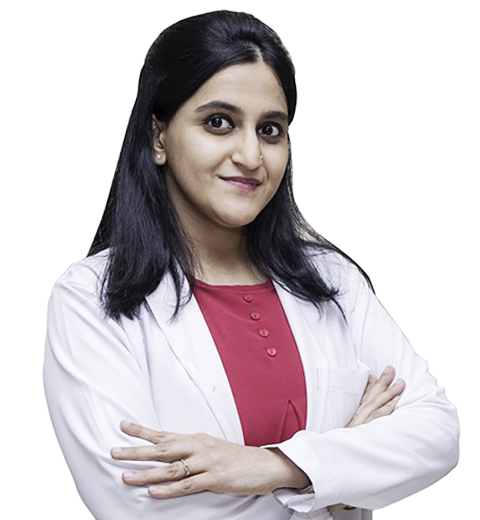 Dr. Arooj Shariq
General Practitioner
---
Years of Experience :
7
Nationality :
Pakistani
Languages Known :
English, Urdu, Hindi
Education & Training:
M.B.B.S
Biography
Dr. Arooj Shariq completed her MBBS from KMDC, Pakistan and has 7 years of extensive experience, including 2 years of specialized training in nephrology. She is a dedicated and energetic doctor who excels in high-stress situations. Dr. Shariq is skilled at working in an organized manner despite a busy environment. With strong interpersonal skills, she can effectively communicate with people from diverse backgrounds and cultures. She is ambitious and keeps up to date with the latest guidelines in disease management. Dr. Shariq has worked across various departments and is passionate about providing high-quality care to her patients. She believes in the principles of medical ethics and strives to ensure patients' satisfaction by addressing their concerns and providing detailed consultations. Dr. Shariq is proficient in handling urgent care cases, including strokes, seizures, myocardial infarction, asthma exacerbation, acute kidney injury, pneumonia, sepsis, and trauma. She is a compassionate and dedicated doctor who aims to deliver excellent healthcare.
Awards & Achievements
Gold medal in MBBS with distinction in biochemistry.
Research & Publications
Frequency of dementia in the elderly population in Karachi at AKUH.
Reasons for Referral of Pediatric Patients from a Tertiary Care Hospital, Clinical Epidemiology, Dove Medical Press.
Expertise
Expertise in family medicine, providing management of acute and chronic illnesses such as Diabetes mellitus, hypertension, hyperlipidemia, asthma, thyroid disorders, anemia, hyperuricemia, various infections (respiratory tract and urinary tract), and kidney-related issues.
Specializes in the care of dialysis patients, adjusting medications according to their condition.
Designs comprehensive management plans and focuses on addressing the root cause of problems to find permanent solutions rather than superficially treating diseases.
Proficient in handling emergency cases and managing diverse conditions, including trauma care and fracture management.
Skilled in suturing minor and major wounds, performing procedures such as inserting DL and CVP lines, I&D (Incision and Drainage), lumbar puncture, and diagnostic and therapeutic pleural and ascitic taps.
Other General Practitioners Experts