Abu Dhabi One man's struggle with severe knee pain led him to discover the transformational care at Medeor Hospital, Abu Dhabi. This moving narrative follows his journey to regaining movement and living pain-free after knee replacement surgery. Join us as we learn about his journey and the outstanding orthopedic department at Medeor.
Discovering Medeor's Orthopedic Department
When the 71-year-old American man sought medical help, he found solace in Medeor's renowned orthopedic department. Under the expert guidance of Dr. Suresh Gopalan Vadakkoot, a highly skilled Senior Specialist Orthopedic Surgeon, he was introduced to the possibilities of spine surgery, arthroscopy, and joint replacement. Driven by a deep understanding of the man's condition, Dr. Vadakkoot recommended knee replacement surgery as the optimal solution.
Embarking on a Journey of Hope
With each passing day, the man's knee pain threatened to diminish his quality of life. However, Medeor Hospital, with its cutting-edge medical technology and experienced physicians, instilled hope within him. Believing in the transformative power of modern medicine, he embarked on a journey to regain his freedom from pain and restore his ability to move without limitations.
Compassionate Care and a Nurturing Environment
From the moment the man entered Medeor, he experienced the compassionate care provided by the dedicated staff at the hospital. The hospital's warm and welcoming environment, coupled with personalized attention, offered him a sense of comfort and support throughout his treatment. Even the meals served during his stay contributed to his overall well-being, ensuring a holistic healing experience.
Successful Knee Replacement Surgery
Under the expert guidance of Dr. Vadakkoot and his skilled team, the patient underwent a successful left knee replacement surgery. Prior to the procedure, comprehensive check-ups were conducted to address any cardiac issues and diabetes, ensuring the best possible outcome. This meticulous approach further solidified his trust in Medeor's orthopedic department, showcasing their commitment to patient safety and well-being.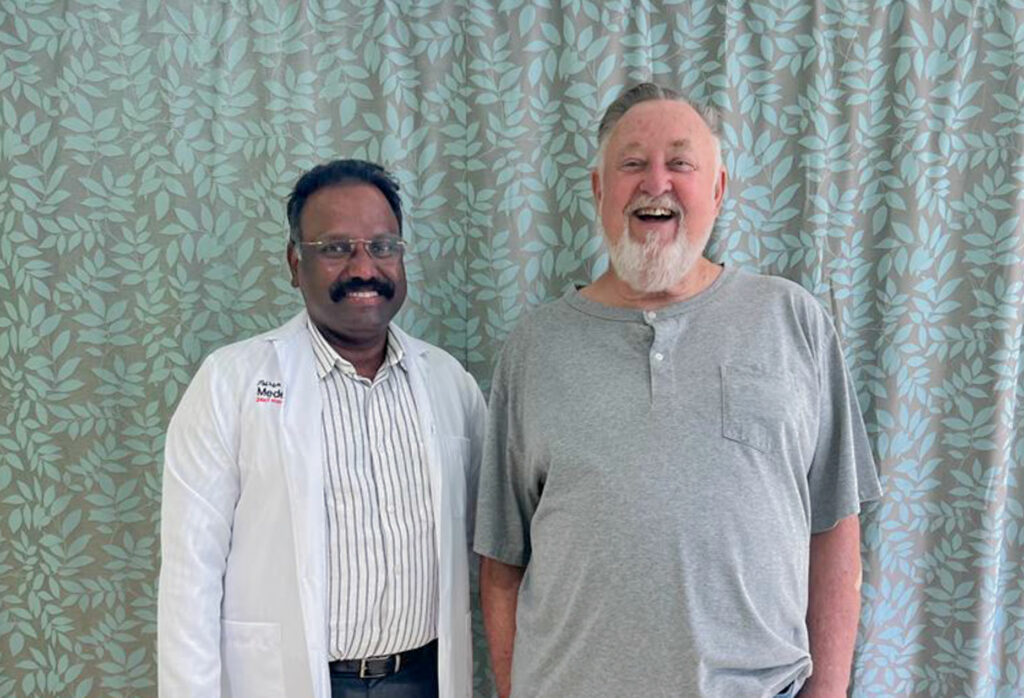 A Supportive Family at Medeor
Being alone in Abu Dhabi, the man found a supportive family at Medeor. The compassionate staff, including the attentive nurses and expert doctors, became his pillars of strength throughout his journey. Medeor Hospital went above and beyond to ensure his physical and emotional well-being, making him feel cared for and supported during his recovery.
Embracing a Pain-Free Life
With the surgery behind him, the man now enjoys a life free from debilitating knee pain. The exceptional care provided by Medeor's orthopedic department played a vital role in his successful recovery. Just one day after the surgery, he took his first triumphant steps, a testament to the transformative power of knee replacement surgery and the expertise of the medical team at Medeor.
Equipped with newfound hope and mobility, the American man continues to visit Medeor for regular check-ups. Inspired by his incredible journey, he now contemplates getting his right knee replaced, confident in the positive impact it will have on his quality of life. Medeor's unwavering commitment to his well-being ensures they remain his trusted healthcare provider for orthopedic needs.
Advanced orthopedic care & compassionate support
The story of this 71-year-old American man's journey at Medeor Hospital in Abu Dhabi is a testament to the power of advanced orthopedic care and compassionate support. Medeor's orthopedic department combines state-of-the-art technology, skilled surgeons like Dr. Vadakkoot, and a nurturing environment to provide patients with transformative solutions for overcoming knee pain. As this man embraces a life free from limitations, his story is an inspiring example of the possibilities that await those seeking exceptional orthopedic care in the UAE.