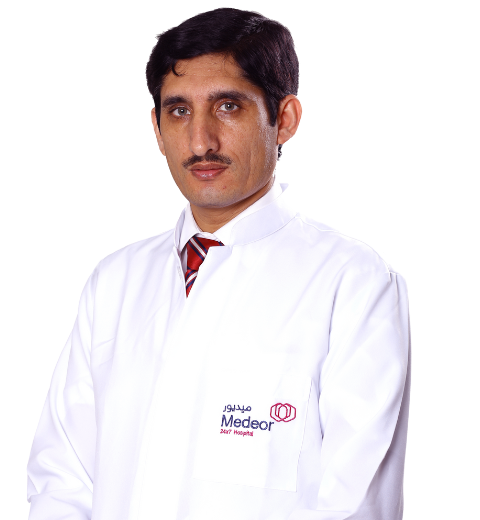 Dr. Dildar Hussain
Specialist General Surgeon
---
Years of Experience :
15
Nationality :
Pakistan
Languages Known :
English, Urdu, Hindi
Book Appointment
Biography
Dr. Dildar Hussain is a Consultant Surgeon at Dubai's Medeor Hospital. He began his career as a Chief Resident / Surgical Training at Pakistan's Aga Khan University Hospital. He later became a Lecturer in Surgery at Karachi's Sindh Institute of Urology and Transplant. He was employed as a Senior House Officer at Muscat's Sultan Qaboos University Hospital. He earned a Fellowship in Advanced Laparoscopic Obesity Surgery after completing his training in advanced laparoscopic surgery. He was a Senior Specialist Surgeon with the Dubai Hospital, Dubai Health Authority, and the Dubai Residency Program. He also taught at Dubai Medical College.
Qualification
MBBS (Gold Medal, Pakistan), FCPS (Pakistan), FRCS (Glasgow), Diploma in Laparoscopic Surgery (France), Fellowship in Advanced Laparoscopic Obesity Surgery (Belgium)
Expertise
Laparoscopic / Open Appendicectomy
Laparoscopic / Open Cholecystectomy
Laparoscopic / Open Para Umbilical and Incisional Hernia Repair
Laparoscopic / Open Inguinal Hernia Repair
Laparoscopic / Open Perforated Duodenal and Stomach Ulcer Repair
Laparoscopic / Open Repair of Small Bowel Perforation
Laparoscopic / Open Adhesiolysis for Bowel Obstruction
Laparoscopic / Open Sigmoid Colectomy
Laparoscopic / Open Sleeve Gastrectomy
Laparoscopic / Open Liver and Abdominal Lymph Node Biopsy
Exploratory Laparoscopy
Hemithyroidectomy and Total Thyroidectomy
Exploratory Laparotomy
Gastrectomy, Hemocolectomy, Total Colectomy, Splenectomy
Anterior Resection and Abdominoperineal Resection
Resection, Anastomosis Small Bowel
Haemorrhoidectomy ( Open, Stapled, And THD)
Abscess Drainage
Pilonidal Sinus Excision
Surgery for Anal Fissure, Anal Fistula
Excision Lipoma, Sebaceous Cyst, and Thyroglossal Cyst
Breast Lump Excision, Mastectomy, Breast Abscess Drainage
Membership
Registered with Dubai Health Authority
Member Pakistan Medical and Dental Council (PMDC)
Registered with GMC, UK
Fellow International College of Surgeons (USA)
Member Asia Pacific Hernia Society
Member Emirates laparo-endoscopic Society, Dubai