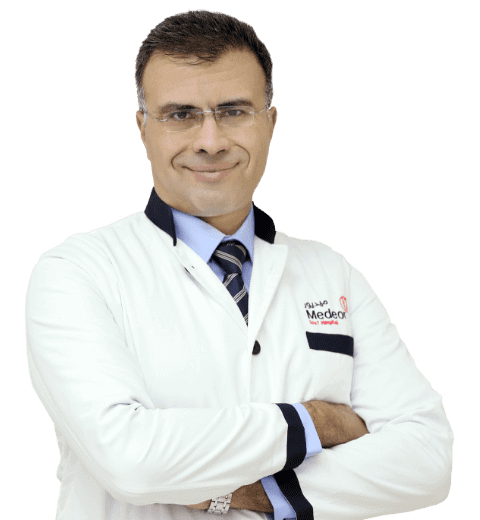 Dr. (Prof.) Walid El-Sherbiny
Consultant Obstetrics & Gynecology & HOD
---
Years of Experience :
21
Nationality :
Egypt
Languages Known :
English , Arabic
Education & Training:
MBBS, MSc (Obstetrics and Gynecology), MD (Gynecology and Obstetrics)
Book Appointment
Biography
Dr. Walid Elsherbiny is a Consultant Obstetrician and Gynecologist at Medeor Hospital in Abu Dhabi. He has over 21 years of Obstetrics and Gynecology expertise in Egypt and the United Arab Emirates. He is a Professor and Consultant in Obstetrics and Gynecology at Cairo University and the Vice-Chair of the Early Detection Unit for Female Genital Malignancies. Dr. Walid was nominated as one of 618 specialists in Obstetrics and Gynecology by the International Federation of Obstetrics and Gynecology (FIGO), which trusts their professional judgments. He serves as a scientific editor for two of the world's most prestigious peer-reviewed journals and as a peer reviewer for six of the world's most prestigious peer-reviewed publications. He is the lead or co-author of over forty research projects in his field that have been published in peer-reviewed journals or presented at medical conferences. Additionally, he is a Fellow of the International College of Surgeons, based in Chicago, Illinois, United States of America. 
Research & Publications
FSH versus HMG: Gonadotropins are gonadotropins: AlInany H, Azab H, El Sherbiny W." How to improve your ART Success Rates: An Evidence-Based Review of Adjuncts to IVF." 2011. Chapter 14, p75-79, Cambridge University Press
Expertise
High-Risk Pregnancy
Infertility Treatment
Urinary Incontinence
Laparoscopic and Hysteroscopy Surgeries
Vaginal Surgeries
Pelvic Organ Prolapse
Membership
Fellow of the International College of Surgeons, USA
Other Obstetrics & Gynecology Experts