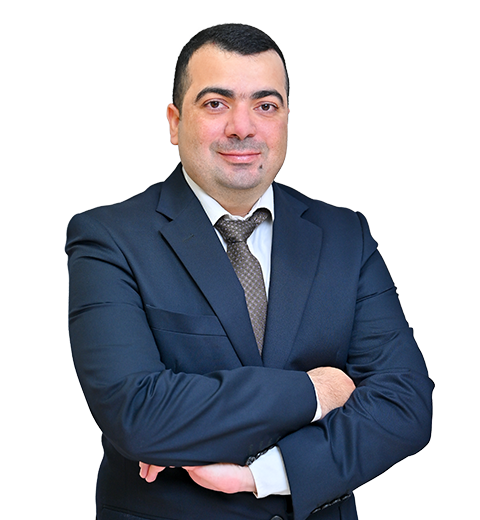 Dr. Amin Bany Salameh
Specialist Neurologist
---
Years of Experience :
9
Nationality :
Jordanian
Languages Known :
Arabic , English
Education & Training:
MBBS | Jordanian board of Neurology | Jordanian board of internal medicine
Book Appointment
Biography
Dr. Amin Bany Salameh is a Neurology Specialist with extensive clinical expertise gained from working in a tertiary hospital in Jordan. He has undergone extensive training in both outpatient and inpatient settings, including critical care. Dr. Amin earned his MBBS from Mutah University in Jordan, achieving the highest marks in the Jordanian Board of Neurology and the Jordanian Board of Internal Medicine.
Additionally, he serves as an Instructor and Provider for Advanced Stroke Life Support (ASLS), a certification issued by the American Heart Association (AHA). Dr. Amin has also completed an Intensive Course on EEG issued by the Neurological Association of South Africa, further enhancing his skills and knowledge in the field.
Expertise
Expertise in the management of ischemic stroke and brain hemorrhage.
Specialized care for movement disorders, including Parkinson's disease, tremor, dystonia, chorea, and more.
Diagnosis and treatment of epilepsy and seizure disorders.
Proficiency in addressing neuromuscular diseases such as peripheral neuropathy, myasthenia gravis, and myopathy.
Conducts neurophysiology studies, including nerve conduction disorders, EEG, EMG, and RNS.
Skilled in diagnosing primary and secondary headache disorders, such as migraine, cluster, and tension headaches.
Administers Botox injections for migraine, cervical dystonia, and hemifacial spasm.
Expertise in multiple sclerosis, neuromyelitis optica, and anti-MOG disorder management.
Diagnosis and management of spinal cord disorders.
Specialized care for dementia, including Alzheimer's disease. Evaluation and treatment of sleep disorders.
Diagnosis and management of neuroinfection disorders.
Proficient in performing lumbar punctures.
Chronic pain management for conditions like diabetic neuropathy, back pain, and neck pain.
Reads and interprets brain and spinal cord imaging, including MRI and CT scans.
Membership
Jordanian Neurological Society Membership
Jordanian Chapter of Epilepsy Membership
Advanced Stroke Life Support - AHA Membership