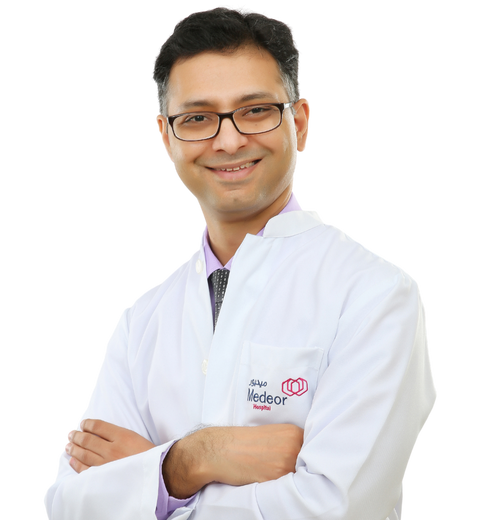 Dr. Deepak Gandhi
Specialist Pediatrician
---
Years of Experience :
20
Nationality :
India
Languages Known :
English, Punjabi, Gujrati, Urdu
Qualification:
MBBS, MD (Pediatrics)
Book Appointment
Biography
Dr. Deepak Gandhi is a Pediatric Specialist at Dubai's Medeor Hospital. He worked as a Specialist Pediatrician at Dubai's Thumbay Hospital. Additionally, he worked in India as a Consultant Pediatrician and Intensive Care Physician at Sukhda Hospital, Sarvodaya Hospital, and LifeLine Hospitals in India. He worked as a certified regional trainer in India. He guided the IAP-NRP program, acute care for practicing pediatricians, IAP in India, zonal trainer for Monsoon Maladies, IAP in India, and the HOPE (Handling of Pediatric Emergencies) course, IAP in India. He is an American Heart Association-certified instructor in Pediatric Advanced Life Support, Neonatal Resuscitation, and Basic Life Support. He is also certified by the Society of Critical Care Medicine in California, USA, in Pediatric Fundamental Critical Care Support and Paediatric Epilepsy Training Course (PET 1) in the United Kingdom. He was the General Secretary of the IAP's Haryana State Chapter in India. He educated and prepared nursing staff and physicians to care for NICU, PICU, and emergency pediatric patients and developed patient care protocols.
Expertise
Proficient in Handling Neonatal Resuscitation, Preterm Babies, and Ventilation
Emergency Management of Sick Paediatric Patients like Status Asthmaticus and Status Epilepticus and Cardiopulmonary Stabilization of Neonatal and Pediatric Patients
Expert In Handling Neonatal and Paediatric OPD, Counseling and Guiding for Vaccination, Growth, and Development, and Nutrition Related Issues
Manage and Guide Children with Special Needs like Asthma, Thalassemia, Thyroid Disorders Etc
Membership
Dubai Health Authority (DHA)
Delhi Medical Council, India
Indian Academy of Pediatrics, India
National Neonatology Forum, India
Adolescent Health Academy, India
Pediatric Critical Care Society, India
IAP Intensive Care Chapter, India
Medical Council of India