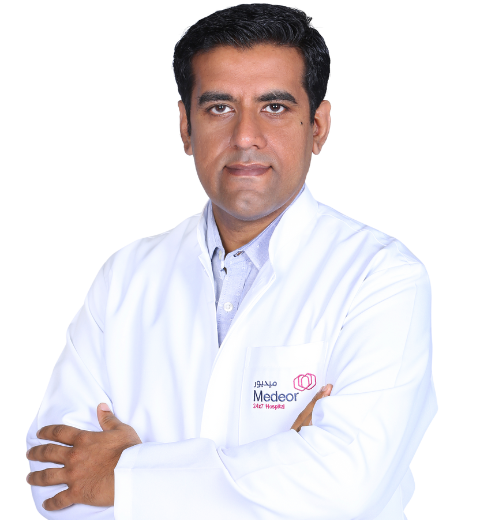 Dr. Binjo J Vazhappilly
Specialist Cardiologist
---
Years of Experience :
22
Nationality :
India
Languages Known :
English, Malayalam, Basic Hindi, Basic Tamil
Qualification:
MD (General Medicine), DM (Cardiology)
Book Appointment
Biography
Dr. Binjo J Vazhappilly is a Specialist Cardiologist at Medeor Hospital, Dubai. He previously worked as a Consultant Interventional Cardiologist at Apollo Adlux Hospital in India and Westfort Hi-Tech Hospital, India. He was a Senior Resident of Cardiology at the Department of Cardiology, Medical College India, and an Assistant Professor in the Department of Medicine, AIMS Thrissur. India.
Expertise
Coronary Artery Disease (Stable CAD, Effort Angina)
Acute Coronary Syndromes (Unstable Angina/ Non-ST Elevation Myocardial Infarction/ ST-Elevation Myocardial Infarction)
Cardiac Arrhythmias
Heart Failure
Atrial Fibrillation
Deep Vein Thrombosis
Pulmonary Embolism
Rheumatic Heart Diseases
Valvular Heart Disease (Mitral stenosis, Mitral regurgitation, Aortic Stenosis, Aortic Regurgitation)
Congenital and Cyanotic Heart Disease
Pulmonary Hypertension
Cardiomyopathies (Hypertrophic/Restrictive/Dilated)
Syncope/ Transient loss of consciousness
Infective Endocarditis
Myocarditis
Pericarditis
Cardiac Rehabilitation
ECG (Electrocardiogram)
Echocardiogram
TMT (Treadmill Test)
CT Coronary Angiogram
Cardiac MRI
Holter Monitoring
Systemic Hypertension
Diabetes Mellitus
Hypercholesterolemia/Dyslipidemia
Screening and Prevention of Heart Disease
Membership
Member CSI (Cardiology Society of India)
Member ICCK (Interventional Cardiology Council of Kerala)
Member IMA (Indian Medical Association)