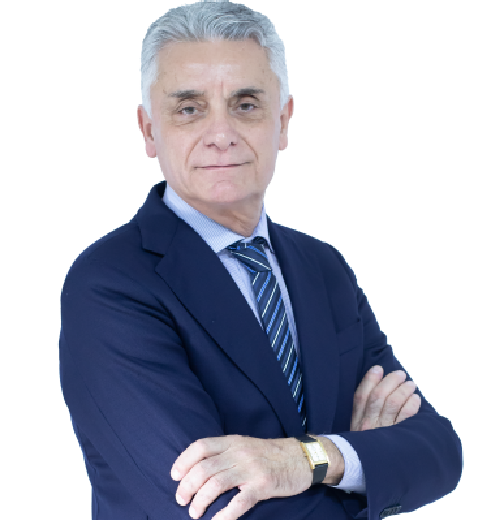 Dr. Alessandro D'Afiero
Urogynecologist – Pelvic Perineal Surgeon
---
Years of Experience :
30
Nationality :
Italy
Languages Known :
English, Italian, French
Book Appointment
Biography
Dr. Alessandro D'Afiero is a Pelvic Perineal Surgeon at Medeor Hospital in Dubai. He has extensive experience and expertise in performing minimally invasive anatomical and functional reconstruction of the female pelvic floor. He has performed over 3350 gynecologic surgical procedures (laparotomy, laparoscopic, vaginal) for benign and neoplastic pathology in the last decade. He earned a degree in medicine and surgery from the University of Naples, Italy, and a certificate in obstetrics and gynecology from the same institution. Additionally, he earned a Master of Science in Health Systems Management from the University of Bari in Italy. He began his career at Foggia's Public Hospital San Camillo De Lellis Manfredonia. He was the Director of the Department of Obstetrics and Gynecology at the Public Hospital Giuseppe Tatarella Cerignola in Foggia, Italy, Director of the Maternity and Childhood Department at the ASL Foggia, Director of the Urogynecology Unit at the Public Hospital Giuseppe Tatarella Cerignola in Foggia, Italy, Founder and Trainer of the Highly Specialized Pelvic Center at the Public Hospital Monaldi in Naples, Italy, Accredited Italian National Health System, Santa Maria della Pietà Casoria Catholic Hospital, Naples, Italy, and a visiting Physician at Dubai Health Authority, UAE.
Expertise
Medical and Surgical Treatment of the Female Pelvic Floor's Dysfunctions
Urinary Incontinence
Fecal Incontinence
Complex Genital Prolapse
Minimally Invasive Techniques
Conservative Surgery
Female Genital Cosmetic Surgery
Membership
Indian Obstetric and Gynecologic Association
Indian Medical Association
Dubai Health Authority
Other Gynecology and Obstetrics Experts