---
Dialysis Center in Dubai
---
Dialysis is a procedure that uses a machine to filter waste products from the blood. It is a treatment for end-stage renal disease, or ESRD, which means that your kidneys are no longer working well enough to remove waste and extra fluid from your body.
---
Services at Our Advanced Dialysis Center in Dubai
---
Medeor Hospital in Dubai is your premier destination for the treatment of end-stage renal disease. Our center is designed to give you the best experience possible. We offer a wide range of services that include:
Flexible Scheduling
Long-Term Care
24/7 Physician Support
State-of-the-Art Dialysis Machines
Medical Management (Nephrology)
Expert with 30+ Years of Experience
---
Special Dialysis Package in Dubai at AED 600
---
At Medeor Hospital, Dubai, we are committed to helping you maintain your quality of life through this process. We recognize that dialysis plays a significant role in your overall healthcare and are committed to giving you the best experience possible. We developed our unique dialysis package for this reason.
24/7 expert support
State-of-the-art technology and equipment
Personalized care plans based on your individual needs
---
Our Expert Nephrologist in Dubai
---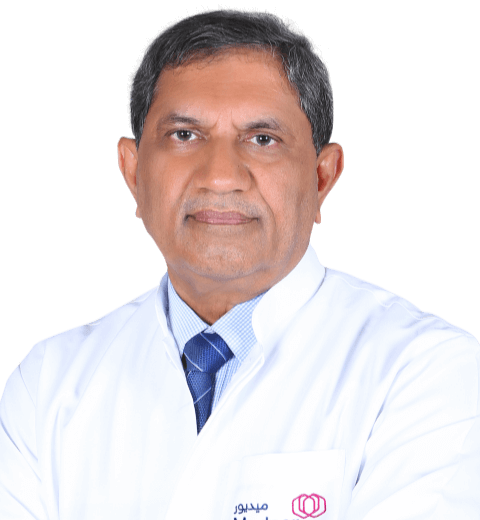 Dr. Paulose P Thomas
Specialist Nephrologist
Years of Experience : 30
Nationality : India
Languages Known : English, Malayalam, Tamil, Hindi
Expertise
Dialysis
Kidney Transplant
Kidney Biopsy
Vascular Access Procedures for Dialysis
---
Frequently Asked Questions
---
Dialysis is a method of filtering waste from the bloodstream. It is most often used to treat people with kidney failure, but it can also treat people with other types of renal failure.
There are a number of reasons why you may need to undergo dialysis. You might need it if you have kidney disease and your kidneys can no longer filter your blood. This can be caused by diabetes, high blood pressure, or other illnesses. It is also necessary if you develop kidney failure due to injury or surgery.
It s is not necessary for everyone with kidney disease. Your doctor will determine whether or not you need it based on your age, general health, and current condition. In some cases, it may be needed temporarily while another treatment is being developed or until the kidneys recover enough to work normally again.
The process involves a machine that removes waste products from the blood and replaces them with fluids, electrolytes, and nutrients. The blood flows through tubing that connects to an artificial kidney machine, which then pumps the blood through filters that remove waste products. The cleaned blood then flows back into your body through another tube connected to your arm or hand.
Are there Different Types of Dialysis?
There are two main types: hemodialysis and peritoneal dialysis.
Hemodialysis involves removing waste from the blood by passing it through a filter. This is done using an artificial kidney machine, which filters the blood and then returns it to the body.
How long do Hemodialysis Treatments Last?
The length of a hemodialysis treatment depends on how much fluid and waste your body is able to remove from your blood. This can vary from person to person, and it will also depend on the type of machine you are using. A typical treatment lasts between 3-5 hours.
Contact Info