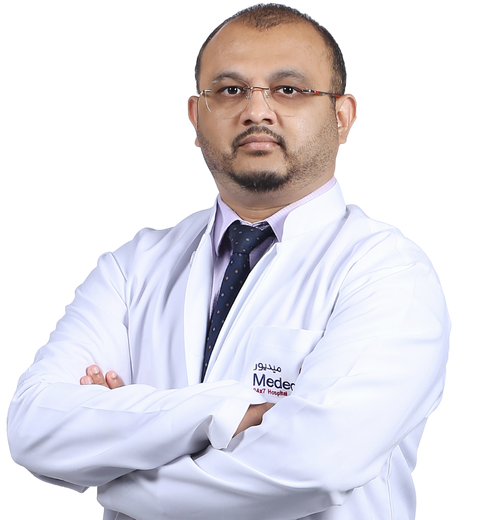 Dr. Chetan Kashinkunti
Consultant Neurologist
---
Years of Experience :
12
Nationality :
India
Languages Known :
English, Hindi, Kannada, Hindi, Arabic
Book Appointment
Biography
Dr. Chetan is a Consultant Neurosurgeon at Medeor Hospital, Dubai. He earned his degree from NIMHANS, India. He has a high level of experience in the diagnosis and treatment of a wide of neurological disorders and has been delivering specialized neurological care to patients. 
Research & Publications
Chronic Encephalopathy with Ataxia, Myoclonus, and Auditory Neuropathy: A case of Bismuth Poisoning. Neurol India Jan-Feb 2017
Mineralizing Vasculopathy Causing Motor Delay and Silent Strokes? J Pediatr Neurosci Oct-Dec 2018;
Case Report: Neuroborreliosis with Plastered Spinal Arachnoiditis: A Magnetic Resonance Imaging-Based report. Am J Trop Med Hyg 2018 Mar;98
Clinico-pathological and Molecular Spectrum of Mitochondrial Polymerase g Mutations in a Cohort from India. J Mol Neurosci. 2021 Jan 1
Poster presentation: Clinical, Molecular and Electroencephalographic findings in POLG Related Epilepsy – A case series.
Expertise
Headache
Radiculopathy
Post Stroke Recovery and Rehabilitation
Movement disorders
Peripheral Neuropathy
Epilepsy and Seizures
Cerebral Palsy
Memory Loss
Membership
Member of Indian Academy of Neurology
Member of American Academy of Neurology
Member of Movement Disorder Society of India
Member of Indian Stroke Association
Member of Indian Epilepsy Association
Member of Oman Stroke Society
Member of Oman Medical Society