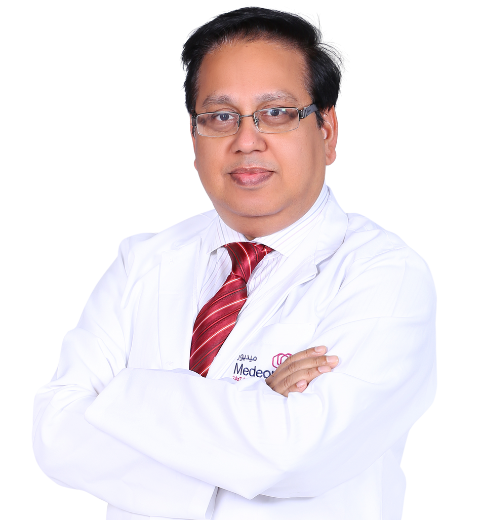 Dr. Arindam Ghosh
Consultant Gastrointestinal Surgeon & General Surgeon
---
Years of Experience :
35
Nationality :
India
Languages Known :
English, Hindi, Bengali
Qualification:
MBBS, MS, MCh, FACS
Book Appointment
Biography
Dr. Arindam Ghosh has extensive experience as a Senior Consultant Gastrointestinal Surgeon and General Surgeon at several prestigious hospitals, including the Saudi German Hospital in the United Arab Emirates and the SPS Apollo Hospital in India. He began his career as a Resident Graduate Trainee (MS) at the Government Medical College in India. He later moved to the R.G Kar Medical College and Hospital in India as a Resident House Surgeon. He began his career as a Senior Resident (MCh) in Surgical Gastroenterology at G.B Pant Hospital in New Delhi. He became a Consultant and Assistant Professor of Surgical Gastroenterology at Dayanand Medical College and Hospital in India. He has performed over 12000 routine and advanced laparoscopic digestive system surgeries. Over 300 complex gastrointestinal surgeries, including Whipple's, partial pancreatic resections, pancreatic, liver, gastrojejunostomy, and over 1000 bariatric procedures. He is a pioneering Certified Robotic Surgeon in the MENA region and is credited with performing Northern India's first living-donor liver transplant.
Expertise
Advanced Laparoscopic Surgeries of the Digestive System
Cancer of the Pancreas, Liver, and Gastrojejunostomy
Colorectal Resections and Surgeries for Polyp, Inflammatory Bowel Disease, Minimally-Invasive Surgery for Colectomy
Cancer Surgeries
Bariatric Surgeries (MGB, RYGB, Sleeve)
Robotic Surgeries
Membership
Fellow of American College of Surgeons
Member of IFSO - Federation of Surgery of Obesity
Member of IASG - Indian Association of Surgical Gastroenterology
Member of ISLS - International Society of Liver Surgery