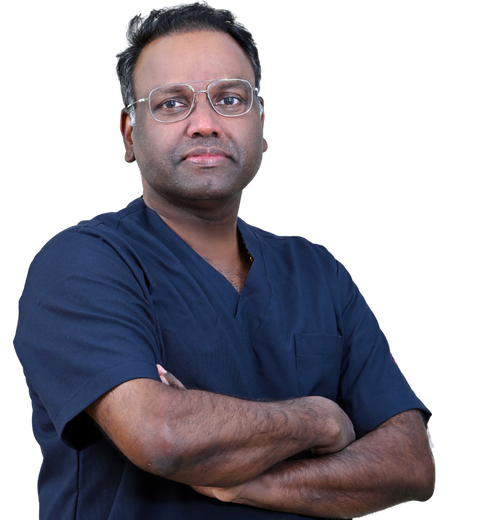 Dr. Suresh Gopalan Vadakkoot
Senior Specialist Orthopedic Surgeon (Spine Surgery, Arthroscopy & Joints Replacement)
---
Years of Experience :
20
Nationality :
India
Languages Known :
English, Hindi, Malayalam, Tamil
Book Appointment
Biography
Dr. Suresh is a skilled Orthopedic Surgeon with over 20 years of surgical experience in India, Germany, and the UAE. He completed his MS in Orthopedics from Government Kilpauk Medical College, Chennai, India. Dr. Suresh was trained in spine surgery and gained a Fellowship from the Sancheti Institute, Pune, India. He has received his Fellowship in Joints Replacement and Arthroscopy from Asklepios Orthopädische Klinik Lindenlohe, Germany. He was trained in shoulder surgery at the University of Durban, South Africa. Before moving to UAE, Dr. Suresh was associated with leading tertiary care hospitals in Kerala, India as a Consultant Joints Replacement and Spine Surgeon heading the Orthopedic Department. During his career of over 20 years in the orthopedic field, he has performed thousands of successful surgeries.
Qualification
MS (Orthopedics)
Fellowship in Joint Replacement and Arthroscopy from Asklepios Orthopädische Klinik Lindenlohe, Germany
Fellowship in Spine Surgery from the Sancheti Institute, Pune, India
Expertise
Minimal Invasive Total Knee Replacement, other Joints Replacement, and Arthroscopy
Spine Surgeries
Pelvic and Acetabular Trauma Surgeries
Complex Trauma Surgeries
Membership
The Indian Orthopedic Association
The Indian Arthroscopy Association
AO Spine Membership
Other Orthopedics, Rheumatology and Sports Medicine Experts