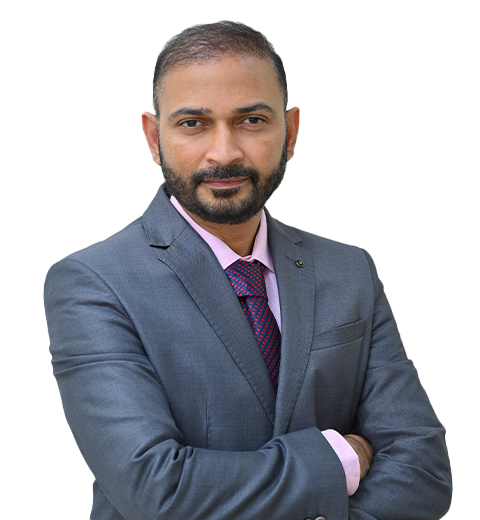 Dr. Rajani kanth (Yarram Rajani Kanth)
Consultant General Surgery
---
Years of Experience :
14
Nationality :
India
Languages Known :
English, Malayalam, Arabic, Hindi, Telugu, Kannada
Book Appointment
Biography
Dr. Yarram Rajanikanth is a Consultant General Surgery with over 14 years of experience in the surgical field. In his tenure, he has successfully conducted over 10,000 surgeries. He has expertise in laparoscopic surgery, including all major operations like bariatric and metabolic surgeries and fundoplication, laparoscopic cholecystectomy, appendectomy, inguinal and ventral hernia repair, etc. He is trained in diagnostic and therapeutic endoscopy and colonoscopy and has expertise in advanced endoscopic and laparoscopic surgeries. Dr. Yarram has completed his MBBS from JSS Medical College and Hospital, Mysore, India, and his Masters in General Surgery from Father Muller's Medical College and Hospital, Mangalore, India. He has also completed his MRCS from Edinburgh, Scotland. His areas of expertise include,
Laparoscopic sleeve gastrectomy and minigastric bypass for morbid obesity – weight loss surgery
Intragastric balloon placement for overweight – weight loss
Laparoscopic gastric plication for weight loss surgery.
Laparoscopic Nissen's fundoplication – for hiatal hernia (diaphragmatic hernia)
Laparoscopic cardiomyotomy – for achalasia cardia esophagus.
Laparoscopic choledochoduodenostomy – for CBD impacted calculus – cholangitis
Laparoscopic gastrectomy / gastrojejunostomy – for malignancy gastric / gastric outlet obstruction.
Laparoscopic distal pancreatectomy – distal pancreas cystic lesion.
Laparoscopic splenectomy – for large spleen – metabolic diseases.
Laparoscopic small bowel resection – tumor of small intestine and strictures of bowel – Crohn's disease.
Laparoscopic adhesiolysis for small bowel intestinal obstructions.
Laparoscopic rectopexy – for complete rectal prolapse.
Laparoscopic colectomy and anterior resection of rectum for malignancy colon, rectum, and diverticulitis of colon.
Colostomy and ileostomy for acute ischemic colon and small bowel gangrene.
Submandibular and parotidectomy for sialolithiasis and parotid tumors.
Laser surgeries for varicose veins, pilonidal sinus, anal fistula, and hemorrhoids.
Other General & Laparoscopic Surgery Experts