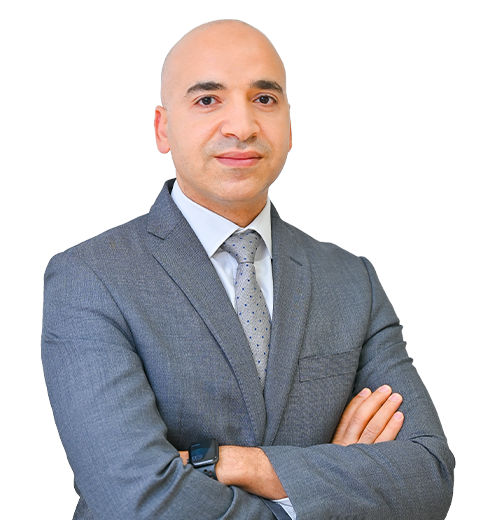 Dr. Mohamed Turky
Consultant Orthopedic Surgery
---
Years of Experience :
15
Nationality :
Egypt
Languages Known :
Arabic, English
Education & Training:
Ph.D., MSc, Advanced Trauma Fellowship
Book Appointment
Biography
Dr. Mohamed Turky is a Consultant Orthopedic Surgeon with more than 15 years of extensive clinical experience at top-ranked hospitals in the Middle East and the Gulf region. Dr. Turky completed his residency training at Al Hussein University Hospitals in Egypt, followed by a Fellowship at Basel University Hospital, Switzerland, in advanced trauma. Before joining Medeor Hospital, Dr. Turky worked as a Senior Specialist in Trauma, Orthopedics, and sports medicine at leading centers in Kuwait, Oman, and the UAE. He has extensive experience in knee ligaments injuries and meniscal repair techniques and has performed more than 500 successful cases. He is also well versed in arthroscopic and open procedures in ankle and foot surgeries, serving more than 200 successful cases.
Research & Publications
Arthroscopic Grading of Injuries of the Inferior Tibiofibular Syndesmosis: M. Turky et al. The Journal of Foot and Ankle Surgery 57(2018)1125 _1129
Expertise
Knee Ligaments Injuries and Meniscal Repair Techniques
ACL Reconstruction
Meniscal Preservation Surgeries
Regenerative Medicine, Including Visco-Supplementation and (PRP) Therapy
Anterior and Posterior Ankle Arthroscopy
Arthroscopic Management of Sinus Tarsi Syndrome
Ankle Ligament Reconstruction
Foot Osteotomies
Ankle and Foot Fusion
Open and Arthroscopic Techniques
Management of Trauma Including Primary or Revision Surgeries
Shoulder Pain and Sports-Related Injuries
Hand Trauma and Tendon Repair
Back Pain and Spine-Related Problems
Medical and Surgical Management of Osteoarthritis and Tendinopathy
Osteoporosis Diagnosis and Management
Geriatric and Pediatric-Related Trauma and Fractures Surgeries
Other Orthopedics, Rheumatology and Sports Medicine Experts