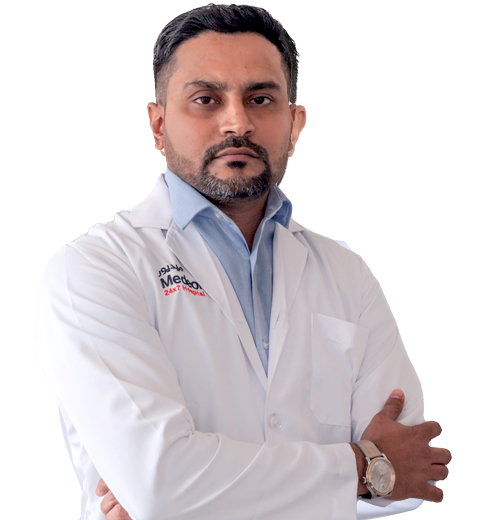 Dr. Md Hossain Ahmed Abdullah
General Practitioner
---
Years of Experience :
15
Nationality :
Bangladeshi
Languages Known :
English, Hindi, Urdu, Bengali
Education & Training:
Diploma in Anaesthesia (DA) | Master's in Public Health (MPH) | MBBS | MRCEM Part-A |
Biography
Dr. MD Hossain Ahmed Abdullah graduated from Rangpur Medical College Hospital, Bangladesh, in 2009. The hospital is renowned and affiliated with the University of Rajshahi. After completing a one-year internship in various departments, including Medicine, Surgery, GynaeOBS, Paediatrics, Dermatology, and Orthopedics, Dr. MD Hossain pursued further training in Anaesthesia and ICU as a General Practitioner at Marks Medical College Hospital, Dhaka, for one year. During this time, he also worked in different ICUs at Labaid General Hospital, Popular Medical College Hospital, and Gastro-Liver Hospital as a General Practitioner.
In 2012, he was admitted to the Diploma in Anaesthesia program at Bangabandhu Sheikh Mujib Medical University (PG Hospital) and successfully completed it in 2014, achieving outstanding results in the examination, ranking first among all candidates. Subsequently, he joined Labaid Cardiac Hospital as a Cardiac Anaesthetist, where he performed nearly 300 procedures, including CABG, Mitral Valve replacement, Aortic Valve replacement, RIMA-LIMA Y Graph, and Double Valve replacement on beating heart bypass surgery until 2015. He also served as a Consultant Anaesthetist in MOH, Maldives.
Dr. MD Hossain furthered his education by pursuing a Master's in Public Health (MPH) with a major in Epidemiology from the State University of Bangladesh, Dhaka. Following this, he served as an ICU General Practitioner (Anaesthetist) at Sheikh MBZ Covid Field Hospital for one year. Additionally, he worked as an ICU registrar at the renowned Canadian Specialist Hospital in Dubai.
His interests primarily lie in the fields of Critical Care Department and ER. He possesses the skills to operate various mechanical ventilators and independently perform procedures in the ICU, such as Endotracheal Intubation, Central Venous Catheterization, Arterial Cannulation, Percutaneous Tracheostomy, ICD insertion, and Hemodialysis Catheterization.
Currently, Dr. MD Hossain is pursuing MRCEM Intermediate to further enhance his qualifications and expertise.
Awards & Achievements
Diploma in Anaesthesia (DA), Master's in Public Health (MPH)
Research & Publications
Comparison between Hyperbaric Bupivacaine 0.5% with Isobaric Bupivacaine-Fentanyl in TURP Patients: A Case-Control Study in a Midlevel Hospital.
Expertise
Capable of operating different Mechanical Ventilators (Drager, Datex Ohmeda, Phillips, etc.).
Proficient in performing various procedures in the ICU independently, including:
Endotracheal Intubation
Central Venous Catheterization
Arterial Cannulation
Percutaneous Tracheostomy
ICD (Implantable Cardioverter Defibrillator) insertion
Hemodialysis Catheterization
Other General Practitioners Experts